︎ Phonetic Asterisms
—
Dj Star nails
exploring the overlap between experimental poetics and music.
"After great pain, a formal feeling comes"

This iteration is guided by the poetry of Emily Dickinson and sifts through
forms of grief and letting go.
TRACK LIST:
No Edges To Bind - Holly Childs & Gediminas Žygus
Paprika Pony - Kim Gordon
Vestigia Flammae - Benoit B (feat. Elen Huynh)
Nonbinary - Arca
Keep It Movin' - Lolina
Slip His Finger - Tail
Harvest Heart - EYE
You Did It - Cologne
Alexander - Jessy Lanza
Stay Open - Cecile Believe
I Am Nobody, Who Are You - Rosie Stockton reads from Permanent Volta
Phaze-Shift - Forest Drive West
Sin Existencia - Zatua
Ay Çürüdü - Anadol
İnolvidable - Tito Rodriguez
No More Shubz - Klein
I Don't Want To Fall In Love Again - Cindy Lee
"Guided Meditation"

This is the second installation of Phonetic Asterisms.
TRACK LIST:
Persona (1966) Opening Scene
Edge - Lucrecia Dalton
One More - Yaeji (Object Blue Remix)
îË |I O Æ B - Michael Speers
Giulia Bencivenga reading The Adjective That Claims Me
from CUD
Mimetic - Oli XL
Ying Yang Self Meditation - Charlotte Adigéry
Tocame El Culo - Rebe
No Juegues - Tei Shi
My Future - Loraine James
Tan Lin reads from Seven Controlled Vocabularies Obituary 2004 The Joy Of Cooking (www.youtube.com/watch?v=iHA_eX_hWek)
as long as ropes unravel fake rolex will travel - Dean Blunt
Champagne - Easter (Luke Abbott Remix)
Gate At The End - Public Memory
Open / Ouvre - Felicia Atkinson
You're Wanting It To Go This Way - Jonnine
Do The Right Thing - Bella Boo
Echoes Remain Forever - Anne Clark
Stupid - Caught Feelings
---
This set made for Montez Press Radio as part of the 2019 LA Art Book Fair.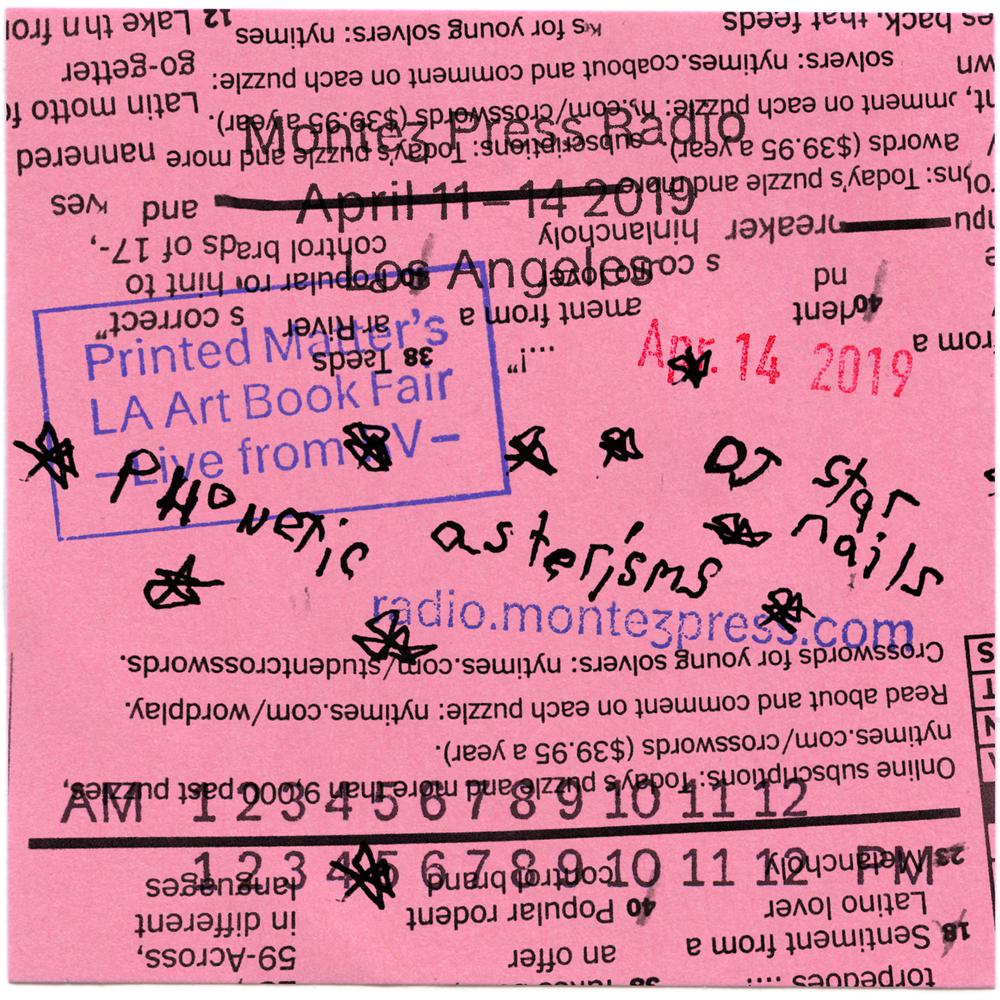 TRACK LIST:
Is There Anything On Me That Doesn't Speak - Jenny Hval
Godmother - Holly Herndon & Jlin (Feat. Spawn)
Can I Hold the Mic (Interlude) - Solange
Tell My - ODWALLA1221
DON'T TALK TO ME - SCRAAATCH
Not Worried - Eartheater
Land Of My Dreams - Kayla Ephros (ft. Musical Tracing Ensemble)
Freedom Fiction (DEMO) - L Twills
Part 1 - Jennif(f)er Tamayo
dios es fantasma - Manuel D. Lira
---
Lower Grand Radio

Tune in to the Truth-Hound Hour: Part interview, part DJ set, Gin and Valentino discuss the truths that make one wettest, the color of love, and everyday magics.
Valetino Velez, or DJ Promise Keeper, is the author of 2424.
Gin Hart is a poet & co-editor of the literary journal,
Dirt Children
.
---
Shadow on Speaker

Poetry podcast hosted by Mary Clark